Back to all posts
Posted on
Register for Welding 1000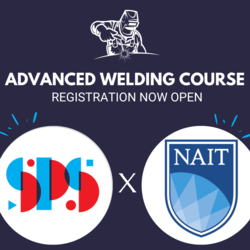 First Ever NAIT Welding Cohort with Sturgeon Public Schools
Are you looking to boost your high school graduation credits and advance your welding skills? Look no further! Join the first ever NAIT Welding Cohort with Sturgeon Public Schools and earn the following benefits:
3, 30-level credits towards your high school graduation
Credit at NAIT for Welding 1000 in the Advanced Welding program
Online Instruction
Get direct instruction remotely with our online program. Classes will be held on Tuesdays and Thursdays from 4:00-6:00PM for 10 weeks, starting from February 21st to May 18th. The program also includes a field trip day at NAIT for a hands-on learning experience.
Build Your Resume
This is an excellent opportunity to build your resume and enhance your welding skills. Take advantage of this chance to stand out from the crowd and make a positive impact on your future career prospects.
Tuition-Free for 15 Students
The best part? Tuition is free for 15 students. Don't miss this chance to enhance your education and skills at no cost!
For more information and to register, contact:
Chantelle Cadieux at 780.973.3301 or email chantelle.cadieux@sturgeon.ab.ca